About ILCS I study abroad Morocco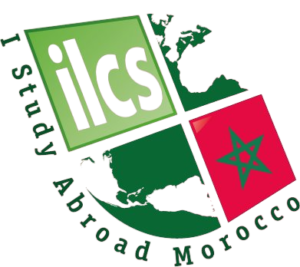 ILCS, I study abroad Morocco has attracted more than 2000 participants for the last 5 years.  It is still impacting lifes of youth from all over the world.  I study abroad  Programs are created to introduce Morocco to the world, educate and train  leaders of tomorrow and contribute to the social development of the Moroccan community.
Location:
ILCS situated in Rabat, Morocco's capital city.  Rabat is a beautiful city located at the Atlantic Ocean coast. ILCS is strategically located within a 15-minute walk from the centre of Rabat in the lively neighbourhood Agdal.  You will find the main street: av Al Amir Fal Ould Oumeir with many international shops and restaurants. We are housed in a 5 level building which is used mostly for classroom and language laboratory facilities and partly for administrative activities. On the 4th floor a lounge with cafeteria is created especially for participants to relax and socialize during their breaks or after class. Our terrace is used to enjoy the Moroccan sun while eating breakfast, barbequing with classmates or study and tan at the same time. Every Friday we have organised activities in the lounge as Moroccan movie nights, belly dancing workshops, game nights etc.  ILCS also has a wifi enabled multi-media centre equipped with the latest generation of PCs and a library containing textbooks and related materials in the fields of language and communication.